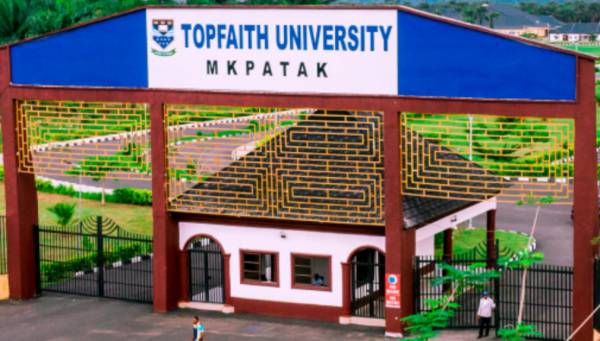 Topfaith University Post UTME Form 2023/2024 Is Out: The Topfaith University, Mkpatak, Akwa Ibom State, has begun the sale of the post-UTME application forms for admission into its undergraduate programs for the 2023/2024 academic session. See below the list of courses, requirements, and how to apply for the Topfaith University Post UTME Form.
Applications are requested from adequately qualified applicants for undergraduate admission to Topfaith University, Mkpatak, Akwa Ibom State, for the 2023/2024 academic year.
Top Faith University is a modern institution of higher learning with cutting-edge facilities and educational philosophy with a worldwide perspective. The Federal Government of Nigeria has authorized and licensed the University.
As a newcomer to Nigeria's tertiary institution, it has brought with it a fresh, polished, and visionary message of hope, value, relevance, and usefulness in educational matters.
Prospective students are thus encouraged to apply to Topfaith University for admission in the 2023/2024 session utilizing the 2023 UTME/JAMB Results in order to participate and profit from innovative academics, entrepreneurship, research, and functional human capital building.
Why Choose Topfaith University?
Unique Academic and Entrepreneurial Philosophy
Experienced, exposed, and dedicated Management and Staff.
Serene, secure, and nature-friendly educational environment.
Top-notch and ultra-modern facilities.
Discipline and core value teaching and learning philosophy.
Exposure to international best practices in education, management, and culture.
E-learning facilities and audio and visual teaching methods.
High-standard and functional laboratories.
Standard sports arena for games and athletics.
Expansive and well-laid-out campus.
Modern, clean, and comfortable accommodation for students.
On-campus residency for staff.
Uninterrupted Power and Water Supply.
Well-equipped and standard Library complex.
24/7 on-campus wiFi.
The Home of Chokhmah!
Topfaith University Courses
Faculty of Management and Social Sciences:

B.Sc. Accounting
B.Sc. Business Administration
B. Sc. Economics
B.Sc. Criminology and Security Studies
B.Sc. Mass Communication

Faculty of Engineering:

B.Eng. Petroleum and Gas Engineering
B.Eng. Electrical and Electronic Engineering
B.Eng Computer Engineering
B.Eng. Telecommunications Engineering

Faculty of Computing and Applied Sciences:

B.Sc. Biotechnology
B.Sc. Biochemistry
B.Sc. Mathematics
B.Sc. Computer Science
B.Sc. Software Engineering
B.Sc. Physics with Electronics

Faculty of Law: LL.B

Commercial and Industrial Law
Jurisprudence and International Law
Private and Property Law
Public Law
Topfaith University Admission Requirements
All admissions into the University are through the Joint Admissions and Matriculation Board (JAMB);
For admission to 100 Level (via UTME), candidates must obtain five (5) credits at SSCE (or equivalent) in relevant subjects at not more than 2 sittings including credit passes in English and Mathematics; and attain acceptable points in UTME in relevant subjects;
For admission by direct entry (200 Level), candidates shall, in addition to having five (5) SSCE credits, obtain at least two (2) A' level (or its equivalent) passes in relevant subjects, or possess ND with credit passes, or possess a good first degree or HND in another field as the case may be;
Credit passes in English Language and Mathematics shall be compulsory for admission into all courses.
Prospective students must, in addition to meeting the general admission requirements, also satisfy specific faculty and departmental requirements. The interview may be conducted as a component of the admission process in addition to UTME or Direct Entry requirements.
How to Apply for Topfaith University Post UTME Form
Greetings from Topfaith University in Mkpatak, Nigeria's Akwa Ibom State. We are happy that you are starting your career with us. We provide students with an excellent educational experience that gets them ready for their desired professional pathways. With our cutting-edge and well-equipped learning environment, we provide entrepreneurial training, solid morals, and a nice living location.
Our application form is free.
Email: admissions@topfaith.edu.ng
Postal: P.O.Box 1875, Ikot Ekpene. Akwa Ibom State
Phone: 08053475763, 07066211122