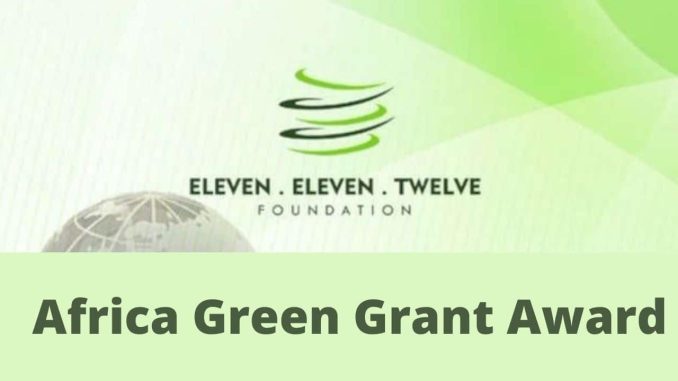 Eleven Eleven Twelve Foundation is delighted to notify you that the call for applications for the Africa Green Grant Award is now open and will close soon read below as we show you all the requirements for grants and how to apply, but before then let's give you a brief introduction to what Africa Green Grant Award is all about.
About the Africa Green Grant Award 2023
This award was created within the framework of the sustainability of the environment through the empowerment and support for entrepreneurs and small businesses who have innovative, creative, and sustainable ideas, products, and services that seek to reverse and stop the adverse effects inflicted on the environment and in line with the United Nations Sustainable Development Goals.
Aims
To empower entrepreneurs through capacity development, seed capital, mentoring, and networking with a focus on the environmental and agricultural sectors.
To provide education regarding environmental issues, agricultural development, and acquisition of skills for the development of individual's ability and a healthier environment for all.
To give grants to entrepreneurs in the environmental and agricultural sectors of the African economy to reduce the unemployment rate.
To inspire, empower and promote a new generation of entrepreneurs and social change agents who are passionate about our environment.
To provide skills, knowledge, and resources needed for deserving and enterprising small business start-ups towards enhancing individual business development and raising successful entrepreneurs across the continent.
Eligibility/ Requirement For Africa Green Grant Award 2023
The financial support scheme is open to Africans, both individuals and institutions/organizations, whose work/idea will or is currently having a positive impact on communities and the environment in the environmental or agricultural sectors.
Applicants must not be older than 35 years old.
Applicants for financial support must have innovative ideas which can be implemented to solve environmental problems in society.
How To Apply Africa Green Grant Award 2023
Interested and qualified candidates should click the link below to apply
Only applicants who have completed the qualifying examinations will be interviewed and have their credentials reviewed (Candidates are to come with their original acknowledgment slips printed online).
NB: Shortlisted candidates will be notified through email or SMS when the selection process is concluded.