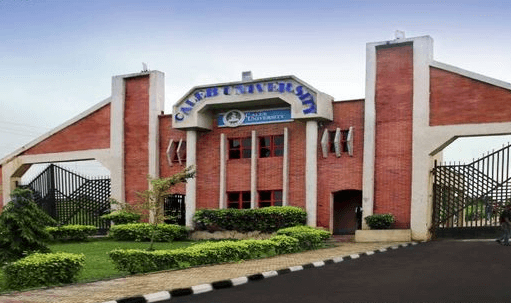 Caleb University Post UTME Form 2023/2024 is Out: the University of Caleb in Lagos (CUL) accepts applications for the post-UTME academic year 2023/2024 in its numerous academic programs. Below are the courses that are offered, as well as the criteria and how to apply for Caleb University's Post UTME Form.
Qualified and competent individuals are encouraged to apply for admission to Caleb University, Lagos (CUL) first-degree programs for the academic year 2023/2024.
Before we show you the requirement for the Caleb University Post UTME Form it is pertinent that we outlined a list of courses that is available and approved by NUC and their duration so that you can acquaint yourself with the information before filling out the admission form.
COLLEGE OF ENVIRONMENTAL SCIENCES AND MANAGEMENT (COLENSMA)
B.Sc./M.Sc. Architecture – 6 Years
B.Sc. Estate Management – 5 Years
B.Sc. Building – 5 Years
B.Sc. Quantity Surveying – 5 Years
COLLEGE OF PURE AND APPLIED SCIENCES (COPAS)
---
4 year duration for all courses
B.Sc. Microbiology and Industrial Biotechnology
B.Sc. Plant Sciences and Biotechnology
B.Sc. Zoology and Aquaculture
B.Sc. Biochemistry
B.Sc. Chemistry
B.Sc. Industrial Chemistry
B.Sc. Mathematics
B.Sc. Statistics
B.Sc. Computer Science
B.Sc. Physics
B.Sc. Physics with Computational Modeling
B.Sc. Physics with Electronics
COLLEGE OF ARTS, SOCIAL, AND MANAGEMENT SCIENCES (CASMAS). 
4 year duration for all courses:
B.Sc. Economics
B.Sc. Business Administration
Options in:

Marketing
General Business
Human Resources Management

B.Sc. Accounting
B.Sc. Banking and Finance
B.Sc. Mass Communication
B.Sc. Political Science
B.Sc. International Relations
B.A. Philosophy
B.A. English and Literary Studies
B.A. History and Diplomatic Studies
B.Sc. Psychology
B.Sc. Criminology and Security Studies
How to Apply for Caleb University Post UTME Form 2023/2024
Students applying to any undergraduate program at Caleb University must submit an application. During the application procedure, an N10,000 application fee will be paid.
Apply soon since it's on a first-come, first-served basis. Call 08139656990 for further information.
The application procedure is as follows:
Start an Online Application: Click here or use the start application button below to begin an online application. We strongly advise you to go through this page to have a better understanding of the application's features.
Filling Out the Online Application: Make sure the information you provide is true to the best of your knowledge while filling out the online application. Your application will be nullified if you enter incorrect information.
During the application process, you will be asked to provide a white background passport photograph, an O'Level/A'Level result, a birth certificate, and other relevant papers. While filling out the form, the format and size of the files will be shown appropriately.
Review Before Submitting: You may save, change, and continue the application at any time, even if you log out and back in. The save button just saves data and does not send it to the server. Please examine your application before hitting the submit button since you will no longer be able to change any entries.
The date for the interview, as well as other information, will be presented on your applicant dashboard once you have successfully completed and submitted the application form.